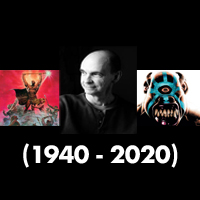 On December 10, 2020, we, just as legions of fans across the world, were devastated by the news of the passing of Richard Corben. Corben was stated to have passed following heart surgery a week prior on December 2.
In tribute to this monumental creator, we wanted to re-present an episode dedicated to Corben from our archives.
Originally broadcast on April 17, 2015, this episode was for a segment that we called 'Shine On' spotlighting artists who may not have been widely appreciated and unsung as 'household names' so to speak.
And Corben was obviously beyond worthy.
Please enjoy our humble retrospective on Corben's career and art that broadened, titillated and ultimately inspired the imaginations of generations of fans and artists worldwide.
For more episodes, be sure to subscribe to sidebarforever.com or wherever you get your podcasts.
SIDEBAR FOREVER ©2020 Dwight Clark, Swain Hunt and Adrian Johnson