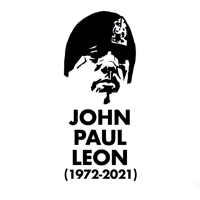 Originally broadcast in November 2010, here is a classic interview from our 'Barchives' with comic artist/illustrator, the late John Paul Leon (1972 - 2021).
Leon's immense talent and thoughtfulness towards the craft of black and white picture-making was universally respected by peers and fans alike. Among his comics output, he was known for his work on Milestone's 'Static' and 'Shadow Cabinet' titles, Marvel's 'Earth X' and WildStorm's 'The Winter Men'. In addition, he embellished countless comic book covers with his art and contributed to style guides for Hollywood films such as 'Superman Returns', 'Batman Begins' and 'The Dark Knight'. 
This episode continues our re-presentation of classic interviews and roundtables from our previous incarnation as SiDEBAR: The Pop Culture Podcast into our podcast feed. We hope that our listeners, both new and old, will enjoy these vintage back episodes and follow us here for new episodes of Sidebar Forever!