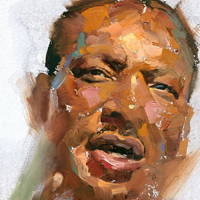 Originally broadcast in 2010, here is a classic interview from our 'Barchives' with renowned illustrator/painter Greg Manchess.
With a career spanning over four decades, Manchess' rich brushwork has graced innumerable magazines and book covers. He is highly lauded with awards from the Society of Illustrators and exhibitions of his original artwork in the United States and abroad.  Greg published his first graphic novel 'Above The Timberline' in 2017 to widespread praise.
This episode continues our re-presentation of classic interviews and roundtables from our previous incarnation as SiDEBAR: The Pop Culture Podcast into our podcast feed. We hope that our listeners, both new and old, will enjoy these vintage back episodes and follow us here for new episodes of Sidebar Forever!