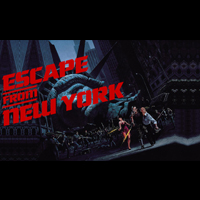 On today's podcast, we play back John Carpenter's dystopian action film 'Escape From New York'. 
Released in 1981, this year marks the 40th anniversary of this sci-fi classic and we catch up with all the crazies: Kurt Russell as Snake, Isaac Hayes as The Duke, Ernest Borgnine as Cabbie, as well as Hauk, Brain, Maggie, Romero, and President Harker. 
We also get into some trivia as far as how the film got made, alternate casting choices, and a few superstar names who worked behind the scenes.